Freshkala
Regular price
Sale price
$29.99 USD
Unit price
per
Sale
Sold out
Get it between -
This is the world's longest grain Basmati Rice. With an average grain length of 8.4mm and an elongation of 3 times after cooking it is considered to be the best rice for Biriyani.
Lal Qilla Majestic Basmati Rice which is nourished and watered by snow fed rivers of the HIMALAYAS. This class of Basmati rice is distinguished by the extra-long grain with smooth texture and firmness. The grain is extra polished and shines pearly white. What would delight you the most is elongation of the grain after cooking. Lal Qilla Majestic Basmati Rice adds nourishment to every dish and makes each meal a Royal Feast.
Cooking Method
Step 1: Thoroughly rinse 1 cup of Lal Qilla Basmati and soak for 30-35 mins. in lukewarm water.
Step 2: Add the soaked rice to 2.5 to 3 cups of boiling water.
Step 3: Add 1 tbs. of butter or oil or margarine and salt to taste.
Step 4: Cook on medium heat until the rice absorbs the water. Cover with tight lid and remove the pan from the fire. Wait for 10-15 minutes and serve.
Note: If the cooked rice is too hard then use more water in next cooking and if the same is too soft use less water in the next cooking
Share
View full details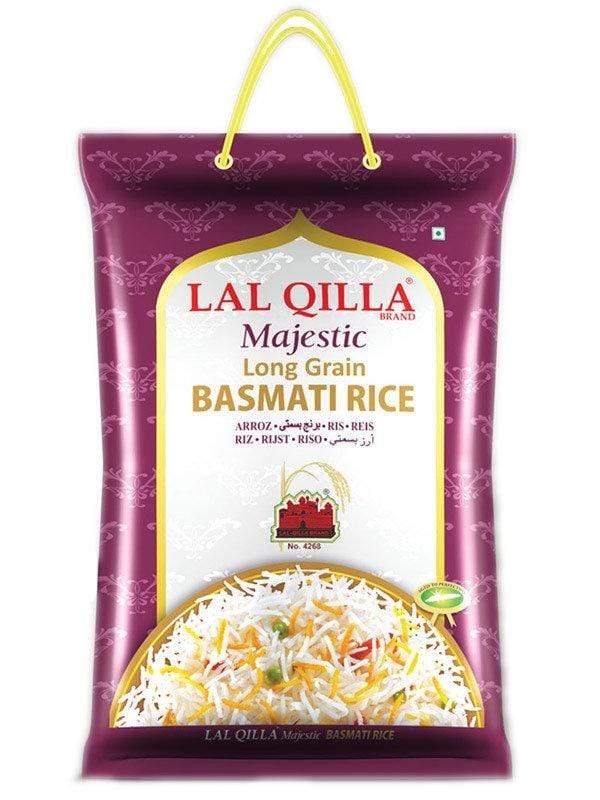 FAQ
How Much is Shipping?

We offer free Shipping For All U.S. Orders of $100 and more. for orders less than $100 Rates are different Base on your location and your order